Hair transplantation has come a long way from the days of Punch Hair Transplant to Follicular Unit Hair Transplant (FUT) of 1990s and the very recent Follicular Unit Extraction (FUE) technique.
With the advent of FUE, the dream of 'no visible scarring' in the donor area is now looking like a possibility. In FUE, the grafts are extracted as individual follicular units in a two-step or three-step technique whereas the method of implantation remains the same as in the traditional FUT.
The addition of latest automated FUE technique seeks to overcome some of the limitations in this relatively new technique and it is now possible to achieve more than a thousand grafts in one day in trained hands. This article reviews the methodology, limitations and advantages of FUE hair transplant.
FUE
In FUE, the extraction of intact follicular unit is dependent on the principle that the area of attachment of arrector muscle to the follicular unit is the tightest zone. Once this is made loose and separated from the surrounding dermis, the inferior segment can be extracted easily. Because the follicular unit is narrowest at the surface, one needs to use small micropunches of size 0.6–0.8 mm and therefore the resulting scar is too small to be recognised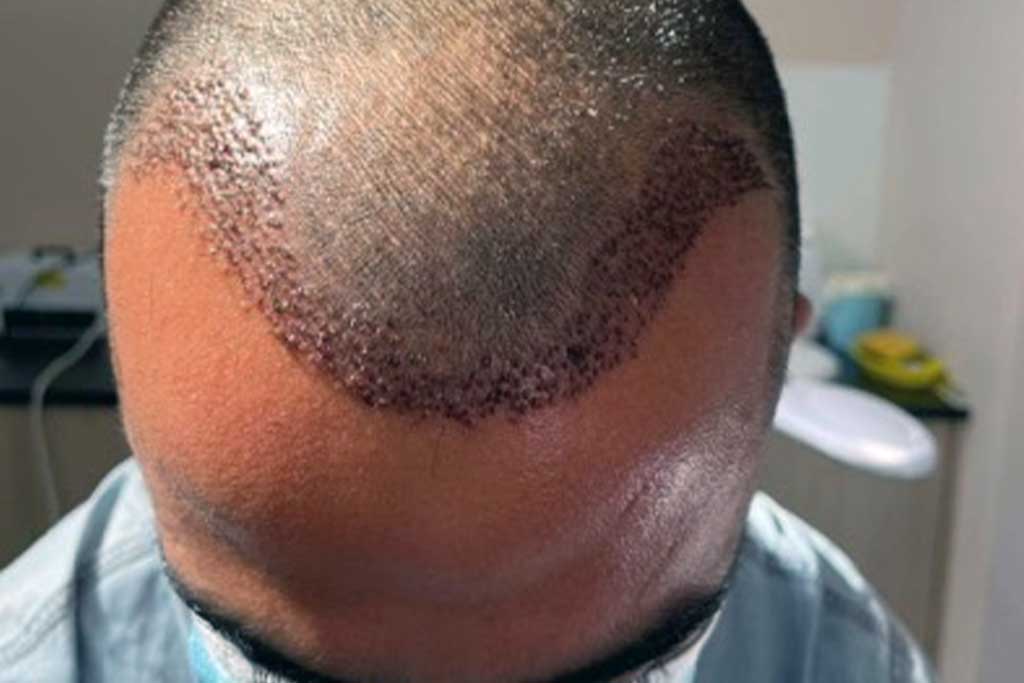 The main anatomical limitation of the technique is that it is not possible to identify the bulge of the hair from outside and hence the procedure is blind. Also, since the hairs with intact unit splay at the lower end and diverge in different directions, the process of extraction can result in a higher transection rate.
The procedure is also slow as each unit has to be pulled out slowly. However, with experience, the hand eye coordination and speed of the surgeon, transection rate can be improved.